Chiropractic for Sports and Active People Decatur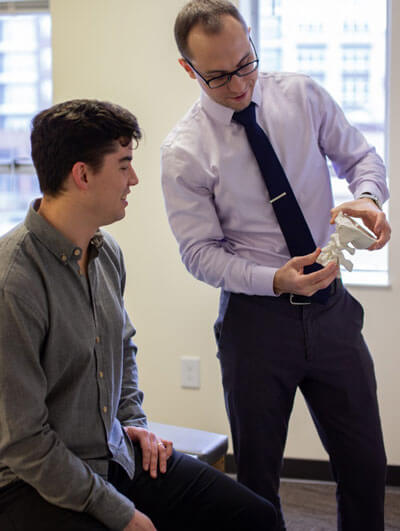 When you're an athlete, you have adrenaline running through your veins. You love the thrill of your sport. When you're injured, the pain might take time to set in. All the muscles in the body are attached to the spine, making it essential that your spine is assessed. We can make sure that your entire body operates as it should so that you don't experience tightness, spasm or further dysfunction.
Evaluating Your Upper and Lower Extremities
Your spine isn't the only part of your body that will be examined at Atlanta Upper Cervical Chiropractic. Dr. Smith analyzes movement of your feet ankles, which contain many muscles, bones, and joints. Without proper shock absorption through these joints, the energy is transferred elsewhere. You may experience problems in the knee, hip, and low back for example, all resulting from a mechanical dysfunction of the foot and ankle.
While your lower extremities are constantly compacted by gravity, your upper extremities hang freely. Though the structure is vital in these lower extremities, the upper extremities are more concerned with muscular tone. It's important that the muscles hold your shoulder joints and elbows into place, fighting against the force of gravity.
Finding What You Need to Get Better
No matter what concern you may come in with, Dr. Smith will work with you to make sure your body gets what it requires. If you need massage or fascial work, he can refer you to someone nearby. You'll get home exercises and other tips as required. We'll even take a look at your footwear to see if your shoes could be improved.
If we find that you're not holding your adjustment as long as we expect you to or your needs change, we'll adapt what we're doing. As your atlas bone stays in place, we can work on your other extremities as your lifestyle requires. Your care will continuously evolve to meet your needs.
Schedule Your First Appointment Today
Find out more about chiropractic for sports and active people Decatur. Contact us today to schedule your visit with us! We have X-ray facilities on-site and convenient hours.
CONTACT US »

Sports Chiropractor Decatur GA | (470) 347-3737